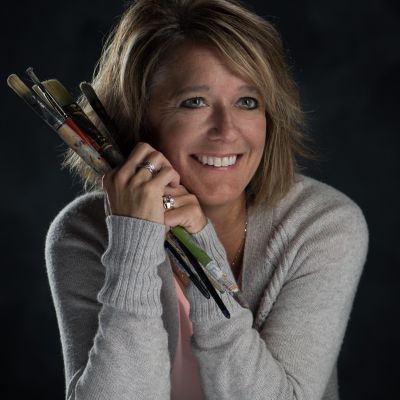 I paint. It's not a hobby. It's not a pastime. It's a process. It's work. It keeps my mind engaged. It's an activity I choose to spend my time developing. It's trial and error and frustrating and fulfilling. It's layers of color coming together on a canvas creating a feeling. It's a piece of me in front of all of you, put there for judgement without saying a word. Is it about me? Or is it about you? Or is it just a picture for a wall? All of these ideas I find fascinating. The people who make art are fascinating. The challenge of making the art even more so. I want to be fascinating, so I paint.
Who is the Artist? Who am I has always been a difficult question for me to answer. I have always been a person who is not satisfied, someone with many irons in the fire, someone who learned to say NO along the way and someone who goes and gets it...when she decides she wants it. I am an "All or Nothing" type A. I started painting after inheriting an easel, a bag of brushes, pack of cheap canvas and some hobby paint from my father in 2013.
I've been fortunate and I am thankful for growing up in a typical loving middle class, catholic, blue collar family. I am a survivor in a long-lasting happy marriage, in which we created a wonderful son. I have crazy great friends, an artist tribe, and have experienced many of places via corporate travel, and expense accounts. Life for me overall has been pretty vanilla, with a few sins in-between. It's been a good life; one I thank a higher spirit for every day.
I paint by feel; by trusting my gut, the exact same way I have operated my whole life. I trust my instincts. Making something from nothing is extremely satisfying. Normally I play music, pop, classic rock, country, R&B, a little RAP and most recently my favorite Pandora channel is Sarah Bareilles Radio. Most of the time I like to work alone and when I am on a roll, I can't stop until I have accomplished something, even if it sucks. I get more done from 3:30am-6:30am than anyone I know.
Education:
B.A.S. Saginaw Valley State University 1995/Liberal Arts/Management
Associates in Accounting from Delta College 1993
Midland Center for the Art http://www.mcfta.org/education/adults/studio-school/
· Abstract Painting, Kathy K Jones http://www.kathykjones.com/home.php 2015- Ongoing
· Beginning and Intermediate Water Media, Ruth Howell
· Advanced Critique, Armin Mersmann http://www.arminmersmann.com/ 2016, 2017
· Workshop Filomena Booth, https://filomenabooth.com/ Inverness Florida, Oct. 2017

Internship/Mentor:
I have spent the last few years studying with established abstract artist, Kathy K Jones, working with her in her studio. She is my mentor and friend; her internship has provided me with very sound art direction. I now share studio space with her, Denise Ardis and Rochelle Aultman.
Shows:
· Midland Center for the Arts Student Faculty Show Summer 2016
· Kathy K Jones Studio Open House Art Exhibit March 2017
· Solo Invitational, The Cosmetic Wellness Center, 5671 Bay Rd., Saginaw MI 48604 May/2017- Ongoing
· The Gallery, Art for Saginaw "Urban Undefined", May 24-2017- Nov 30, 2017.
· Art Walk Central – Art Reach, Mt Pleasant August 3-August 31, 2017
· 515 Gallery, Clare Mi "Emerging" with Denise Ardis, Rochelle Aultman. Aug 5th to Sept 30th, 2017
· Pop Up Show, Art Reach, Mt Pleasant, Oct 3-Oct 28, 2017
· Muskegon Art Museum, 89th MI Regional Juried Exhibition, Sep 28 to Nov 8th, 2017
. Midland Center for the Arts Student Faculty Show Fall 2017
- A Bevy of Brew Hues, Artworks, Big Rapids March 12-April 20 2108
Collectors:
Kay and Dan Denardo, Saginaw, MI
Patricia Gyurich, Bay City, MI
Suzanne and John Billette, Auburn, MI
Sylvia Walworth, Traverse City, MI
Luann and Bill Bock, Rhodes, MI
Studio 2020, Collegeville PA