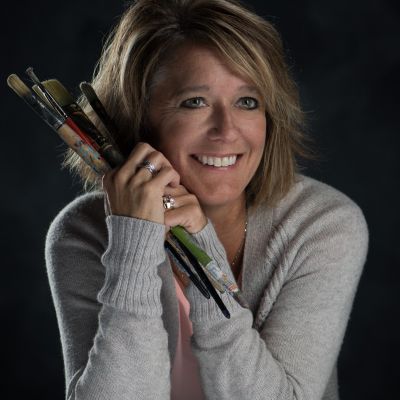 I paint. It's not a hobby. It's not a pastime. It's a process. It's a lot of work, it keeps my mind engaged. It's an activity that continually takes time developing. It's trial and error and frustrating and fulfilling. Layers of color coming together on a canvas creating a feeling. A piece of me in front of all of you, put there for judgement without saying a word. Is it about me? Or is it about you? Or is it just a picture for a wall? All of these ideas I find fascinating. The challenge of making something from nothing, is also fascinating. I want to be fascinating, so I paint.
Who is the Artist? I've been fortunate and I am thankful for growing up in a typical loving middle class, catholic, blue collar family. I am a survivor in a long-lasting, happy marriage, in which we created a wonderful son. I am a Wife, A Mother, and a Regional Account Manager. That statement was the one I used to use to define me. Over the years, keeping the life balanced between the three was my priority and each role certainly took their turns at being number one. Later I realized, that's not all of me. I have always been a person who is not satisfied, someone with many irons in the fire. I am an "All or Nothing" type A. I started painting after inheriting an easel, a bag of brushes, pack of cheap canvas and some hobby paint from my father in 2013.
My inspiration comes from life's good and bad times, crazy great friends, an artist tribe, and having experienced many of places via corporate travel, and expense accounts. Life for me overall has been pretty vanilla, with a few sins in-between. It's been a good life; one I thank a higher spirit for every day.
When I paint, it's by feel; by trusting my gut, the exact same way I have operated my whole life. I trust my instincts. Normally I listen to music when I paint, my favorite Pandora channels include Pink, Sarah Bareilles and Haley Reinhart Radio. Most of the time I like to work alone and when I am on a roll, I can't stop until I have accomplished something, even if it sucks. I get more done from 3:30am to 6:30am than anyone I know.
Education:
B.A.S. Saginaw Valley State University 1995/Liberal Arts/Management
Associates in Accounting from Delta College 1993
Midland Center for the Art http://www.mcfta.org/education/adults/studio-school/
· Abstract Painting, Kathy K Jones http://www.kathykjones.com/home.php 2015- Ongoing
· Beginning and Intermediate Water Media, Ruth Howell
· Advanced Critique, Armin Mersmann http://www.arminmersmann.com/ 2016, 2017, 2018
· Workshop Filomena Booth, https://filomenabooth.com/ Inverness Florida, Oct. 2017

Internship/Mentor:
I have spent the last few years studying with established abstract artist, Kathy K Jones, working with her in her studio. She is my mentor and friend; her internship has provided me with very sound art direction. I now share studio space with her, Denise Ardis and Rochelle Aultman.
Shows:
· Midland Center for the Arts Student Faculty Show Summer 2016
· Kathy K Jones Studio Open House Art Exhibit March 2017
· Solo Invitational, The Cosmetic Wellness Center, 5671 Bay Rd., Saginaw MI 48604 May 2017- June 2018
· The Gallery, Art for Saginaw "Urban Undefined", May 24-2017- Nov 30, 2017.
· Art Walk Central – Art Reach, Mt Pleasant August 3-August 31, 2017
· 515 Gallery, Clare Mi "Emerging" with Denise Ardis, Rochelle Aultman. Aug 5th to Sept 30th, 2017
· Pop Up Show, Art Reach, Mt Pleasant, Oct 3-Oct 28, 2017
· Muskegon Art Museum, 89th MI Regional Juried Exhibition, Sep 28 to Nov 8th, 2017 Juror: Petra Fallaux
. Midland Center for the Arts Student Faculty Show Fall 2017
- A Bevy of Brew Hues, Artworks, Big Rapids March 12-April 20 2108
- Lake Superior State University 5x7 Art Show, April 20, 2018, First Place Award for High Tide
- Lowell Art Gallery, Juried, Location, Location, Location June 1, 2018- July 22, 2018 "Shine On"
- Art Walk Elk Rapids, June 9, 2018 - June 22, 2018
- Painters and Potters, Studio 23, Bay City, MI July 19-September 8, 2018
- Art Walk Central – Art Reach, Mt Pleasant, Aug 6-Aug 31, 2018
- Art Prize, Juried, Grand Rapids, MI, Sept 19-Oct 7, 2018 "A Way In", Palatte Coffee and Art Gallery
- MI Artists All-State Juried Exhibition Studio 23, Bay City, MI Sept 20-Nov 10, 2018 "Dirty Blu and Lighten Up"
Juror: Nick Reszetar
- Morely Family Gallery, Art Reach, Mt Plesant, MI Oct 3-Oct 27, 2018, Solo Show
- Studio 23 Perfect Pairing Event, Bay City, MI Oct 11, 2018
Collectors:
Kay and Dan Denardo, Saginaw, MI
Patricia Gyurich, Bay City, MI
Suzanne and John Billette, Auburn, MI
Sylvia Walworth, Traverse City, MI
Luann and Bill Bock, Rhodes, MI
Studio 2020, Collegeville PA
Ted Evans, Farewell MI